Adjumani - July 2001

After returning from Aber, Uganda in February of 2001, the work started on our Adjumani trip. I had met with the leaders of the Adjumani district at the end of our last trip. They had requested a large number of supplies both medical and non-medical. The big items were one hundred sheets and blankets for the hospital, an air conditioning unit for the operating room, an oxygen concentrator, and many smaller things.
July 21, 2001 came before we knew it and twelve people left the U.S. to join with one more in Uganda. Twenty-seven large black duffel bags were packed and loaded onto the British Air flight that would end in Entebbe. In those bags were all of our medicines, a new air conditioning unit, a new oxygen concentrator and many other things for the Adjumani hospital. One hundred sets of sheets and blankets were to be picked up on our arrival in Entebbe.

Jenny Lilly, who had been on several trips with us before, joined us in Entebbe. She was on leave from Samaritan's Purse and her work in Sudan. God really helped us out with Jenny involved in every aspect of getting the team and medications to their destination.
The team that left Bluefield , was joined in Charlotte by Dr. Jim Masloff (a retired Urologist from Charlottesville). Sarah Rodes, Tom Mould, John Griffin, Pat Griffin, Mary Ann West, Amanda Hale, Shannon Stoddard, Bryan Stonestreet, Rhoeda Sarver, Curt Armstrong, and myself met Jenny in Kampala on Sunday night the 22 of July.
Most of us flew on United Airlines to Adjumani the next day. Jenny, Curt, and Tom rode a lorry for the next day and a half to get to Adjumani.

For the better part of the next nine days, we saw over 6,500 patients, worked in the operating room, installed an air conditioning unit in the OR, gave out over 500 pair of glasses, distributed beans to malnourished families, paid for patients to be transported for specialized surgeries which were not available in our area, and shared God's love with all of these people by word, action, and even by sharing our soccer balls with local kids and schools.

Villages named Pakella, Dzaipi, Ofua, Aryngapi, Ciforo, Mangula, Ukusujoni, Allere, Keyo, and Openzizi will forever remain in our memory. Although, the names of people and places will blur in time, many of these experiences will remain forever etched on our souls because of the heartbreaking circumstances. Many people on this trip were either going into medicine, or thinking about a career in medicine. I do hope that God has opened eyes to see and ears to hear because of this trip.
We ended our trip at Paraa lodge where we rested even though we did hold another small clinic. I was able to go to Aber and arrange the trip for January 2002. While there I was formally given the lands for the AIDS clinic that Westminster Medical Missions is trying to start.
Overall, God blessed our trip with good health, safe travel, and showed Himself in many mighty ways to us and the people of Uganda while we were there.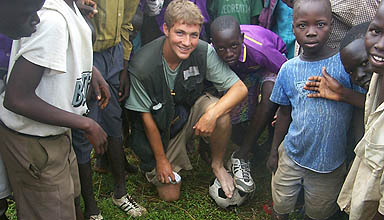 Included are some of our pictures that were major stories in themselves. We thank one and all for your continued prayers and support.
Click here to see our English/Madi cheatsheet!