Aboke Girls School

In October 1997, the LRA (Lord's Resistance Army) kidnapped 152 girls from St. Mary's Catholic girls school in Aboke, Uganda. Sister Rachele Fassere and another nun chased the rebels over 40 kilometers to catch up with them. They were successful in obtaining the release of 109 of the girls. 30 of the original 152 had escaped in the bush during the long walk through swamps in the middle of the night. The rest of the girls were taken into Southern Sudan where they were either made to be soldiers, or wives of other rebels. Some have been released or escaped. Some are still in captivity. Some have been murdered.

Each visit to the Apac district always leads us back to St. Mary's . The Comboni (Italian order) Sisters work tirelessly for the girls who come from all over Uganda to study at this excellent senior girls school, in hopes of getting into college upon graduation. They are self sufficient and raise their own food. We have taken them books, medicines, a guitar, and most recently their first computer set-up (they have generated electricity).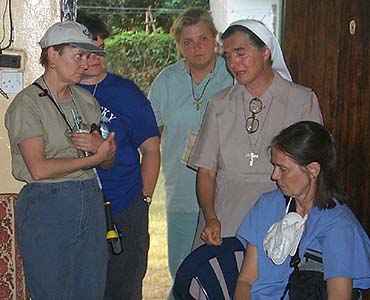 Each trip they always make us the best homemade cookies , cakes, and bread. They are God's example of Christian hospitality.
Each time they always ask for our prayers and especially for the captives still in Sudan. There is now a permanent army troop stationed there for the protection of the school.
Pictures show Sister Rachele talking with our team about the kidnapping, Sister Mary Alba next to a monument to the tragedy, and many of the nuns, and the girls.
If you would like to know more about the Aboke girls, a book has been published detailing their story with pictures.
Title: Aboke Girls
Author: Els De Temmerman
Publisher: Fountain Publishers Ltd., Kampala (fountain@starcom.co.ug).