Zambia Mission May 30 - June 12, 2009
Westminster Medical Mission's 2009 Zambia team included Dr. Bill Harden, Becky Harden, David Duritza, Dottie Bryant, Allen Parker, Ryan Griffin, RN, Joel Hedgepath, RN, Sarah Rodes, PA-C, Mickey Bailey, Jackie Bailey, Farron Duncan, and Marjorie Keel. It was the third medical mission team to go to Zambia to work with George Zulu and his Baptist churches in the Central Province.
The team missed the flight from Johannesburg to Lusaka and had to spend the night in Johannesburg. We also could not get on the next flight out the next morning and finally got to Lusaka 24 hours later than planned. After travelling all night, we reached the town of Serenje and went on to complete our first full day of clinics.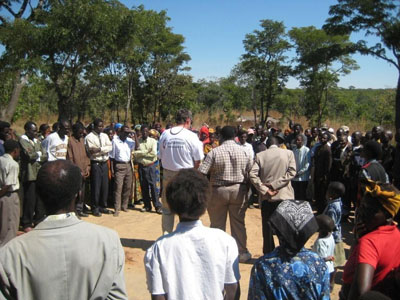 Each clinic was opened by either George or another Zambian pastor telling them that we had come as believers to share the love and compassion of Christ .One of our team members would open the clinic in prayer. All of the clinics were held in Baptist churches but there were no restrictions on who could receive free medical care.
Over a period of six clinic days more than 2,000 patients were seen, over 500 pairs of glasses were given out, cooking oil, sugar, rice, and corn meal distributed, clothes, candy, toys, tropicals (flip-flops) and hats were also distributed.
We saw many medical problems, and assisted many patients with blood pressure medicines, antibiotics, worm medicines, as well as many other medications.

Several people were treated with IV fluids, drainage of abscesses, and even pulling of some teeth.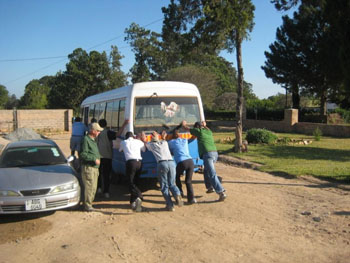 This year we had major problems with our transportation. The bus we ended up using had no spare tire, no lug wrench (spanner), no turn signals, only one head light, and no working gauges or lights on the dashboard. We had to push the bus each time to get it started. We were stranded beside the road twice with flat tires (punctures), and ran out of diesel once. Diesel fuel was between $4-5 per gallon. One time when the bus could not cross a road that had been eroded by water, there was an oxcart just crossing the stream.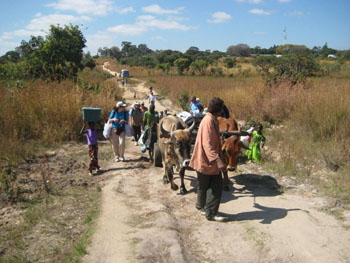 The man who owned the ox cart was more than happy to carry all of our bags to the clinic about 11/2 kilometers down the path. The first two nights in Serenje we had no electricity or running water. However, God protected us and as one of our local ministers told us," this was a powerful evangelism".
Only two team members got sick and both of these were only minor illnesses. Overall, I felt that this was another very successful trip and we accomplished the goals that we had hoped for.
Please keep Zambia in your prayers as well as George and Astrida Zulu. We must discern if the Lord wants us to continue in Zambia. If so, plans are to return to Zambia in June 2010. Our estimated cost per person will be ~$2800. The team size will be ~12 people. I encourage you to talk to the team members who have stepped outside of their comfort zone to see what God had in mind when he called them to go on a medical mission's trip.
Dr. Bill Harden