Uganda Trip - Jan. 2012
Westminster Medical Missions 2012 Uganda Mission Team Report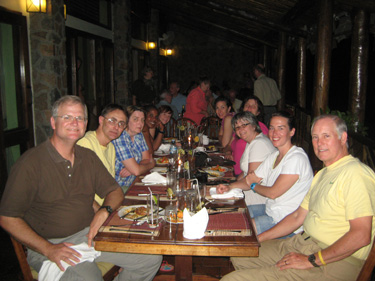 On Sunday January 29th eleven people left for Northern Uganda for the 2012 Westminster Medical Missions team trip.
Dr. Bill Harden, Becky Harden, Brock Swanson, Tera Joyner RN, Susan Alston, Clyde Davis, Gayle Alston, David Duritza, Jesse Weser, Sarah Rodes PA-C and Dr. Lisa Nelson-Robinson were the 2012 Westminster Medical Missions Servant team.
Inflation was at 22% and the cost of everything was dramatically increased. This made every aspect of the trip more expensive.
All of the team arrived safely as did 19 of our 22 bags. The other bags followed three days later.
We were able to pay and /or perform 59 surgeries.

We paid hospital bills for 14 patients who had no money to pay the bills. Two of whom had been there for over three months trying to collect enough money to pay the hospital bill.
We visited Lira Babies Home and Moyo Babies home giving them Beanie Babies, clothes, and money to buy food. The Beanie Babies were donated by a collector specifically for use in Uganda.
We repaired or replaced damaged areas in the AIDS clinic, staff quarters, hospital and convent. We paid to have several huts roofs repaired or replaced from termite damage. As always our outreach/hut visits continue not only to encourage our many patients with AIDS but are a highlight especially for all of the new team members.
We visited all of the hospital wards giving food, Beanie babies, knitted caps, booties and blankets and medicine. We prayed with and for many of the patients including Immanuel who died while we were there.

We were thrilled to see answers to prayer. Many patients that we had prayed for the year before with TB and AIDS were so excited to see us return to their homes.


We thank of you for your continued support. The 2013 Westminster Medical Missions Team trip to Uganda will be in January. We ask for your continued prayers as we continue to continue the work that we feel God has set before us.
The covenant on our web site defines more explicitly what a Servant team is, but to remind you the first paragraph reads:
"As members of a Westminster Medical Missions Servant team, we are sent out in the name of Jesus Christ, to tangibly and effectively demonstrate the love of God, through our ministries of compassion. The goal of each team is to bring honor to Jesus Christ through all that we do and say while carrying out his command to "love our neighbor as ourselves." I believe that the 2012 team far exceeded that goal.
Doctor Bill Harden, Team Leader